The process starts with a sharing a questionnaire developed by our experts. Based on your answers, we perform comprehensive research and build a strategy that ensures 100% success of your goals. We perform various tasks prior to developing marketing strategy for your brand.
Our marketing strategy is based on 04 (four) factors: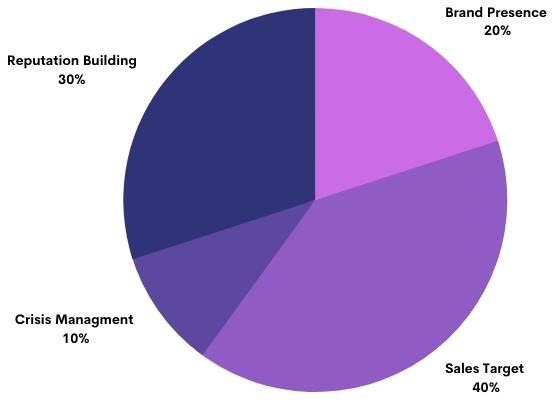 1. Brand Presence
2. Sales Achievement
3. Reputation Building
4. Crisis Management
Below are the activities we perform before preparing marketing plans for your brand.
Online/Offline Research: Online and offline research will be performed to understand consumer behavior, market trends, demographics, competition analysis etc. Our online and offline research is carried out as discussed below:
Search Trends : We perform various research based on product /service search trends over the web in past 12 month.
Demographics : We identify top 50 locations where specific product, or a service is in high demand.
We identify the age and gender for which a particular product/service is in high demand.
Keywords / Tags: We identify top 20 keywords and tags that are using by the consumers while searching over the web.
Expert Advice: Under offline activities, we discuss about a service/product with experts in that industry.
Qualitative Research: A qualitative research will be performed to understand the on-the-ground reality. Under this activity, experts from our team personally visit the targeted locations and understand the mental level of the consumer. It will be performed through direct communication with the people, concerned authorities and independent researchers.
Competition Analysis
This involves in-depth study of 3 nearest competitors to build a plan that ensures 100% success:
Using various tools, our team will identify all past and current activities performed by your nearest competitors. Under this activity, we identify marketing platforms, budget, content, and banners used by your competitors.
We identify the most result-oriented activities performed by your competitors in past 12 months and prepare an analysis report. This report will help us to understand your competitors in depth.
Brand Analysis
To take right decisions, we perform a thorough research on our client. We identify the below mentioned points to understand the detailed brand presence of the client:
| | |
| --- | --- |
| Current Social media presence and reach | Search Engine Performance (Google, Yahoo, DuckDuckGo) |
| Website/app design, its content and speed | Existing News and Media Activities |
| Existing Reviews over web | Backlinks (External and Internal) |
| Consumer Complaints (if any) | Founder/CEO web presence |
Platform Selection
There are hundreds of marketing platforms available in the market, but it is very important to identify the most accurate marketing platforms and tools for brand penetration. To identify the best platforms, we will perform a pilot program for 10 days. Under pilot programs, we develop multiple campaigns and run on several platforms. After 10 days, our team will prepare an analysis report and based on this, we select top result-oriented platforms. The idea is to utilize appropriate platforms and sources as it saves lot of money, time and provides excellent results.