Unified Brainz Celebrated the Success of Leading Men on the occasion of International Men's Day 2020
India (Delhi) –
November 21, 2020: November 19th the International Men's Day which is an opportunity for people everywhere of goodwill to appreciate and celebrate the men in their lives and the contribution made to society for the greater good of all.
Men often surrender at work and with their family roles for their communities and society. We need to do away with the notion that men don't cry and rather should encourage them to express their emotions freely by being vocal. We need to build a space where men can talk about what they are suffering from, without being judged for being sensitive.
On this Great occasion, the world witnessed the most awaited event "Men Leaders to look Upto in 2020". A glorious ceremony saw the presence of some most sought-after lineup of men leaders who were featured from different walks of life sharing passion journey, which made them men of substance based on nomination and selection through a rigorous evaluation process. The event witnessed the online presence of friends from the Bollywood & television industry, international supermodels, diplomats, socialites, business owners, entrepreneurs, media icons & industry leaders along with the global subscriber base of Passion Vista. The event had seen wonderful engagement from over 26 countries across the globe as a platform where men leaders joined hands to network and share their opinions about the importance of better health for men and boys.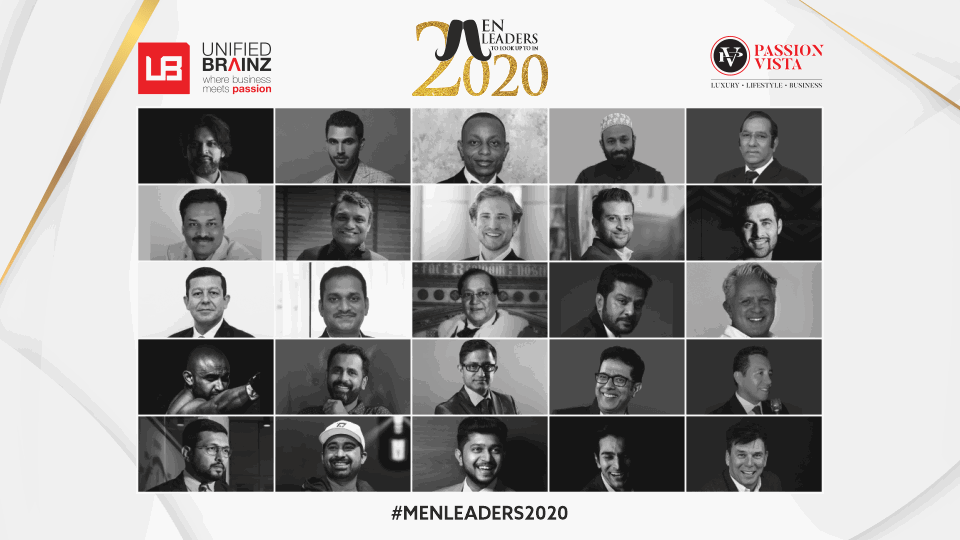 The Unveiling of this Special Collector's Edition Magazine "Men leaders to Look Up to in 2020" was organized during an online event through Facebook & YouTube live addressing to the global audience. The magazine was unveiled by Dr GD Singh, Founder & President of Unified Brainz Group & Editor in Chief for Passion Vista Magazine along with the presence of Guest Editor Mr Mahendrasinh Jadeja from London who is an International Business Entrepreneur & Philanthropist.
The Editorial Board of Passion Vista & Unified Brainz Group in association with our Evaluation Partner – CIAC Global & International Chamber partner Asian African Chamber of Commerce & Industry, announced the inclusion of these 25 magnificent men, Aakash Goswami, Adel Singh, Bhavin Patel, Dr Achyut Dani, Dr Anil Kumar Misra, Dr Mustafa Saasa, Dr Sandeep Sekhri, Dr D Panduranga Rao, Dr Patrick Businge, Dr. Ricardo Saavedra Hidalgo, Freddy Daruwala, Gaurav Bargujar, H.E. Fabrice Houmard, Hemen Joshi, Jagdish Shekhar Naik, James Pulham, Lion Dr Kiron, Lord Rami Ranger CBE, Mangesh Amale, Mohammad Ismail Ghazanfar, Peter Cox, Pratik Gandhi, Rachit Agrawal, Rannvijay Singh, Rohan Mehta from various domains in this Special Collector's Edition.
The editorial board along with our evaluation partner had observed and marked the profiles of men leaders as a brand of high repute and congratulated all men leaders for this achievement to be recommended for this special featured advertorial brand story coverage with the cover page.
This event was conceptualized and produced by Unified Brainz Group, a leading media & publishing house powered by Passion Vista –a Luxury, Lifestyle & Business Magazine in association with International Chamber partner Asian-African Chamber of Commerce & Industry (AACCI). Jointly with CIAC Global as Evaluation Partner, Future Billionaire Network International (FBNI) as supported by partner & World Peace & Diplomacy Organisation (WPDO) as Philanthropic partner along with Gift Hamper Partner – Whiskers (Luxury Men's Grooming Brand) & Digital media partner Ten News (India), Online Media partner Awesome TV (USA), and PR Partner FAME Media and TVM Communication.
To know more about us, check www.passionvista.com
The post Passion Vista Celebrates International Men's Day with Glitz, Glamour & Glory appeared first on .