Revanth Reddy says Congress is the only alternative for TRS not just in Telangana, Congress will be the one to win even at the central level.
With the elections closing up, key political parties and their reps are in the final gear of their campaigns. Operating under quite a busy schedule, Revanth Reddy, Congress Party working President, and MP, Revanth Reddy, shared his views about the issues concerning the GHMC elections.
Here are some excerpts from the interview:
Congress campaign responsibilities appear to be run by a single hand. How was the people's mood?
Nothing like that. All the leaders of the party have taken responsibility. Malkajgiri under my Parliamentary constituency is with a majority division. I think that's the reason to be more visible in the party.
Coming to people's mood, they are serious about the problems around them. They are angry that the government has failed miserably in handling the floods and coronavirus issues. In the past five years, the city's social infra has degraded. The feeling of government being irresponsible is born within people's minds.
There are two major aspects during the campaign of the parties in greater elections. One is public issues and the other is sentimental issues. What were the effects on both aspects?
Sentiments and emotions are temporary – useful for provoking a favorable action. But a responsible political party has to work towards solving public issues. Few parties have no experience in planning. Both parties are ruling from 7 years but development is null. And that's why they have chosen sentiments over development as their strategy and MIM as their strategic partner. That is why they believe in sentiment and emotion. My request to the community is to not fall into that trap.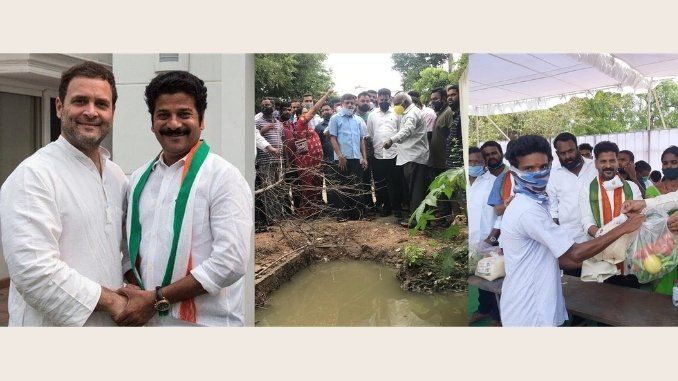 Looking at the present scenario, generally, it looks like TRS vs BJP. What is the Congress position?
That is a concept created by these parties with media's support.. Ultimately it is not good for society. TRS vs BJP is something that is shown on Television. But on the ground, the public is waiting for the solution to their problems and development.
How is Dubbaka affecting the Greater elections?
I've already spoken about this on many platforms. Back in 2019, the BJP which has won 4 MPs but later at local elections, it couldn't win 2 subsequent MPPs. The party which couldn't reach 2000 votes in Huzur Nagar has won in Dubbaka within 6 months. Inflating like a balloon from time to time due to circumstances and later bursting out is the nature of the party. It is going to be the same scenario with Dubbaka as well.
Leaders like Vijayashanti are leaving. Will there be an impact?
Absence of any leader would definitely impact the party. But it is a mistake to think that the party is gone if one or two members leave the party. There is indeed an effect while she left the party. Vijayashanti is well aware of the party. It would be better if she rethinks about it.
BJP is looping in national level promotors and TRS with cinema actors and social media influencers. You are the only star campaigner in the party.
Getting such big executives in a corporation campaign is evident to realise what a state of anxiety they are in. If there's a problem tomorrow, those national leaders & influencers won't be present. Instead, some corporator handles the situation. So, we do not want to see leaders from some other field. This is my request to the public to realise and vote.
You say that BJP, TRS and MIM are all same. But, KTR said that just because the elements are similar, how can all be the same?
When approaches differ and theories differ, how come the evaluation is similar? Situations like cancellation of large notes and GST were the elements sanctioned by the TRS party. Can TRS agree that these aspects are good? If yes, then why is KTR criticising that it's all Tughlaq's decisions, Modi failed in taking decisions in the country's economic system!? In the interface behind their assessment of the elements, there is support among those three parts. The only agenda for all the three parties is to finish Congress.
What is your counterpoint on KCR success in the greater manifesto that's attracting every common man, these days?
There's a saying, "Amma ku annam pettanodu, pinnammaki bangaru gajulu techadanta" (The one who couldn't afford food to mother has gifted their aunt with golden bangles). It's the same with KCR. The guarantees given last time on manifestos aren't done yet. Upon that, he's been continuously crying in anguish for financial crises due to coronavirus. The fear of defeat had caught him, that if he loses, his son will lose everything. To win the elections in any way, he's putting everything for free.
KTR said that in the past 5 years the party has beautified the city with 67000 crores, brought companies like Apple and Amazon to the city.
Utter lies! Of all the 67000 crores, only 6000 crores investment was on the capital city. All others are spent on salaries, pensions and other useless expenses. Places like Rayadurgam, Gachibowli and other relative ventures were developed by four flyovers. The rest of the city is all filled with pot-holes and it's not even covered. Water problems are still existing. They spoke of drainage modernisation but nothing is implemented. There are no minimum measures for flood prevention. There is no Disaster manager and administration is an utter failure. Amazon and Apple are here in the city because of the previous parties' executions. Those companies aren't here after listening to his English or after seeing his father's face. Hyderabad was already a renowned city in 2014 itself. TRS is not even there to rescue that city right now.
Congress and BJP both parties have failed and there needs to be an alternative is what KCR is saying!?
KCR always says, "I will not be a man with lace when election comes." We all listen. And he said it again. It's all a cliche', we don't have to care about it.
KCR says, "Without the co-operation of the state government, nothing can be done in the Greater Corporation, so it is useless to win Congress and BJP."
This is a lie too! Greater Municipal Corporation Budget is Rs.12,000 crores. About 75-80 per cent of Telangana's revenue comes from Hyderabad. Greater Corporation is self-sustained. KCR is bringing down the state with all the debts. He is even trying to get loans from other places. Our state is already in debts, we need to at least save our corporation.
What are the 5 great failures of TRS, according to you?
I would say utter failure rather than telling 5 failures. But, if I have to say, he made a deception about the double bedroom. He exploited the funds during the floods. 4000crores on CM relief fund was initiated. The public was left behind when corona was killing them. Roads and drainage system are completely destroyed. Many unexpected land capturing and Naala capturing were done like never before.
KCR told that he has initiated giving Rs 10000 to the affected during floods, before being asked by the public?
The intention of helping the public is never wrong. But the malice reasons behind them should not be present. If you really are concerned and have humanity, many farmers have also died in these floods. Farmer suicides are always news nowadays. There are no predictions done on the loss of crops during floods, and there's no help done for them. He has been cheating the public because there are elections in greater. Do you name it as 'help' or 'cheating', must be decided by the public?
In the name of sensational news, media is behind TRS, MIM and BJP only. Do you think your party went behind in this?
I've already spoken about this. Provocative statements made provide a space to them in the media. And now, sentiments and emotions are not what the public is waiting for. They want solutions to their problems.
TRS has a reputation in Telangana. There's no BJP or Congress to them. What is your argument on Congress must be their alternative?
BJP is polluting the Indian politics. Wherever they step, looting MLAs, selling, exploiting government and making their own rules are evident. If it starts in Telangana, it is going to be another Gujarat, Tamil Nadu, Karnataka, Uttar Pradesh. The repetition of conflicts of religion like 25 years back is risky to the country.
If this occurs here, we may lose the reputation of our city. We have seen BJP promises in neighbouring states and how they got cheated later. We shouldn't let such parties get popular in our state. Our country relies on Unity in diversity. Hyderabad and Telangana must not be affected by such problems. The Congress party that has secular, democratic for the country must be the deserving one.
You have asked for 25 to 30 Corporates, seems like it is a known fact that the party is not going to win in elections. Did you get a clarity that they'll be only limited to the opposition?
That's not my intention. My concept is that no party should have a brutal majority. That's the only intention we need to focus on my statement. I intend to strengthen the point in bringing the public fighters and questioning voices. We definitely want our Mayor Congress to win. At the same time, we wish to see a power that's fighting for the public.
Can we think that this greater election results could decide the alternative to TRS in Telangana?
Congress is the only alternative for TRS not just in Telangana, Congress will be the one to win even at the central level. This is not something that will be decided over one election, it is pre-destined that Congress will always lead.
What is your message to the public for greater elections?
Think and vote. Emotions and sentiments are temporary. Don't get decisions in the provocation. These provocative leaders won't be seen anywhere once the elections are done. Right from ration cards to pension, from the double bedroom to drainage system problems, from issues on road to water connections, the Corporates are crucial. Homes, blackouts, currents, LRS, BRS and all are very crucial to Corporators. So, choose the party like Congress who works hard, questions the government, fights for the public, and solves their problems.
Disclaimer: This content has been distributed by an agency partner. No Digpu journalist is involved in the creation of this content.
The post "Basthi Hamaara, Baldiya Hamaara…" Revanth Reddy Pushes for Public Issue-Related Campaigns against Sentiments appeared first on .