COOCAA TV
January 10, 2020, Gurgaon, India–
The China-based brand Skyworth TV officially launched two new premium
TV series, both of which will be available globally, as well as in the U.S.
market, in 2020. The Q91 is its first 8K TV and W81 wallpaper-thin OLED TV
available in the U.S. and other markets. The company introduced both the
aforementioned models at 52nd Consumer Electronics Show (CES).
The 8K AI Image Processing Engine uses advanced image recognition and processing technology to improve the contrast, color and clarity of the picture, while intelligently modifying lower-resolution video content to closer to 8K resolution. The bezel-less 75-inch screen enables viewers to enjoy unrestricted viewing with a wide viewing angle of 178 degrees. In addition, the Q91 features Dolby Vision imaging technology, offering ultra-vivid picture quality – incredible brightness, contrast, color and detail that bring entertainment to life before your eyes. The Q91 series also provides an immersive audio experience with Dolby Atmos 2.1.2, as well as a HiFi passive filter and SKYWORTH's Wonder Audio Sky Echo built into the SoundBar, which moves sound waves upwards to echo precisely into the user's ears.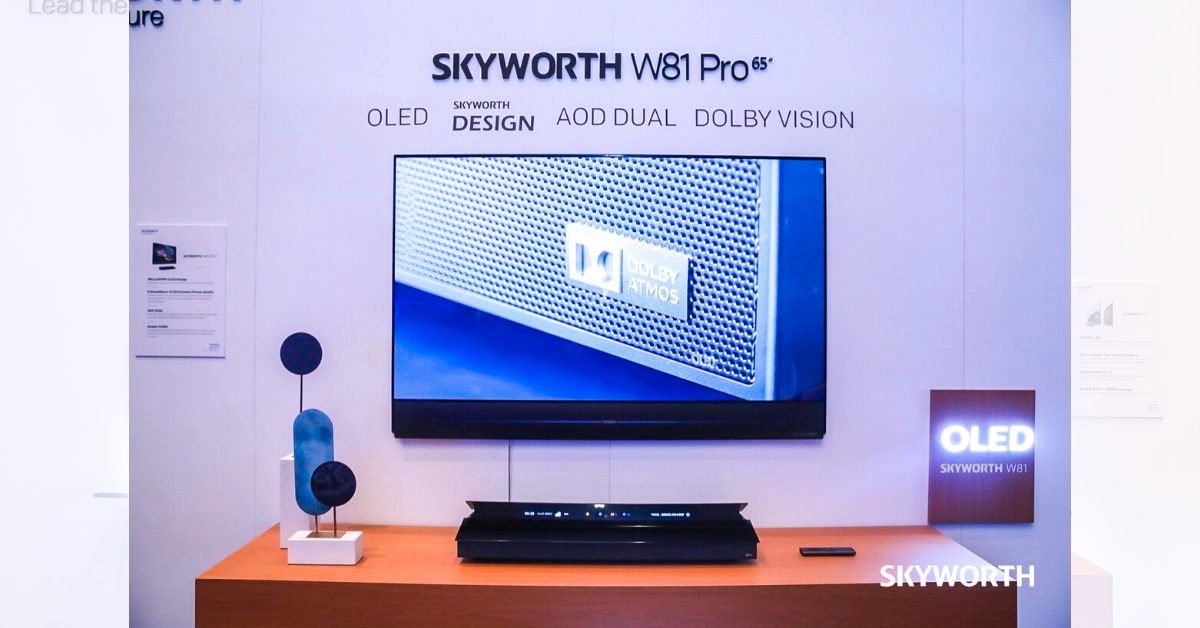 Inspired by the thin and light qualities of paper, the design of W81 series is elegant and modern. The signature one-line design of the lower frame offers a minimalistic yet practical feel, with the microphone array and AI camera embedded on a thin illuminated line, while the combination of glass and metallic materials convey a sense of cleanliness and strength. Its thickness of 4.6mm is said to be the TV's slimmest makes this OLED screen seamlessly attached to the wall. A 21-inch secondary display on the W81 Pro, equipped with the Swaiot OS, shows always-on information such as time and weather, as well as real-time updates including IoT device responses.
Skyworth has launched Coocaa brand in India with four Smart TVs in the Indian market. While two out of its four models are Smart Android TVs, while the other two runs on Linux platform. After its tremendous success in nine countries, Coocaa is excited to have entered the Indian market. Coocaa offers a 32 inches HD ready smart TV with YouTube, 50 inches 4K UHD LED Smart TV. Alongside, it has launched 4K UHD Android TVs which is available in 50 and 55 inches. Coocaa is available for purchase exclusively on Flipkart. The TV comes with a bezel-less screen, Dolby Vision, Dolby Audio, Dual AI & Voice functionality, quad-core processor, Anti Blue Light Technology and native video calling support.
ABOUT SKYWORTH
Leading market television manufacturer Skyworth in China and one of the top five TV manufacturers in the world has always pursued a consistent international growth course and achieved double-digit growth through strategic acquisitions. Its workforce of 30,000 employees in the TV equipment business across all regions in nine offices in the Philippines, Thailand, Vietnam, Hong Kong, South Africa, Australia, India, Germany and Indonesia, is ample proof of its ever-growing popularity. Skyworth was ranked 14th among the top 100 electronics enterprises in China. In 2012, the brand value of Skyworth has reached 5.7 billion USD.
ABOUT COOCAA
Coocaa is a Shenzhen-based company. It is a subsidiary of Skyworth and has been in existence since 2006. Coocaa, as a registered trademark of the market-leading TV manufacturer Skyworth, is an epitome of modern design with advanced technologies that have been extremely popular among masses. With a 31-year history, the company was valued at over $19 billion last March and says it employs over 40,000 people worldwide. With its wide range of affordable televisions, Coocaa dominates the open market.
The post China's leading TV brand Skyworth launches OLED 8K appeared first on Digpu News Network.