Mr Ashok Tanna (middle), Company Spokesperson & Managing Director, Ardent Maschinfabrik Pvt ltd
January 17, 2020, Mumbai, India—
Nearly seven years after the asphalt
mixing plant manufacturer Linnhoff India Pvt. Ltd. ran its operations
successfully, the corporation will change its corporate name to Ardent
Maschinfabrik Pvt Ltd w.e.f 26th December 2019.
Formerly
Linnhoff India was owned 49% by STG Infrastructure Pvt Ltd and 51% by IPS
lintec Asia Pacific Pte Ltd, Singapore. Post the name change it will now be
100% owned by STG infra Pvt ltd under Ardent Holdings Pvt ltd. The name of the
company will change from Linnhoff India Pvt. Ltd. to Ardent Maschinfabrik
Pvt ltd.
The
company continues to hold the license for manufacture & distribution of Linnhoff
Brand Asphalt Plants in India & will continue its marketing-tie up
with GMMCO for sales, service and aftermarket support through Gmmco's
nationwide sales organization like before.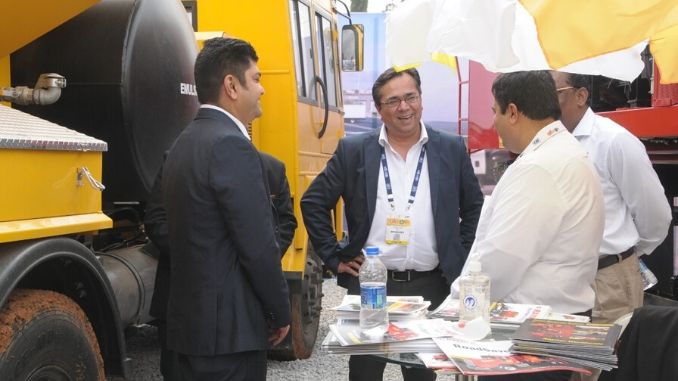 Company spokesperson and Managing Director Mr. Ashok
Tanna announced that the new name would reflect the evolving
focus and standards of the company, adding, "The company has used the name Linnhoff India for close to Seven
years & achieved product recognition in the country. The company has a
thriving and profitable run of business satisfying our customers and vendors
alike. With the acquisition of 100% of the equity & change of name to Ardent
Maschinfabrik Pvt.Ltd (formerly Linnhoff India Pvt Ltd) our patrons will find no change in the
quality of products or services offered or procuring information on products or
services, or conducting business with our new business identity. "The name
change allows for the company to foray into newer ventures and tap the export
potential of the company to its fullest.
About
Ardent Group
Former Linnhoff India
now a part of Ardent group had started operations by distributing Lintec &
Linnhoff Asphalt Plants in 2012 in India. The company has a full-fledged manufacturing facility with 100%
components manufactured and sourced in India in its Pune plant since April
2013. Customer care, team spirit, commitment, and passion are the core values
of the company with the right mix of vision and capability to be
the market leaders. The group is highly diversified into
many other areas of Infrastructure through their interest into road maintenance
equipments and Mining holding the brands of Trencor, Strassmayr &
Jetpatcher. Some of the other
group holding companies are:
Ardent Infra
Equipments Private Limited:
The company provides clients with solution for production of Asphalt
& Concrete with or without paving options on a per Ton/Cum basis giving
clients an unparalled experience of remaining asset lite at competitive costs. The company is an unlisted private company and is a 100%
subsidiary of Ardent Maschinfabrik Pvt Ltd. In a short span of 2 years, Ardent
Infra has currently nearly 50 ongoing projects nationwide with a
production commitment of over 7 Million Tons of Asphalt and 1.5 Million cum of
concrete.
The company operates a fleet of Asphalt Batch plants,
concrete Batch Plants & slipform pavers which it contracts to various
projects Nationwide on production basis. The company has continuous projects
for all the equipment's and is creating new standards for the construction
Industry. The company is headed by its CEO Mr Prashant Kanade who has over two
decades of Industry Knowledge
Ardent
Estrada Pvt Ltd:
Provides tolling and TOT companies with maintenance services for the Road assets owned by them. The company provides maintenance equipment from road sweepers to pothole machines including automated grass and hedge trimming equipment. With a commitment to a high degree of safety to the operating staff we meet the expectation of our customers. The company is headed by its Managing Director Mr Rajesh Kumar who has over two decades of experience in the Industry.
The post Name change Announcement – Linnhoff India Pvt Ltd changes its name to Ardent Maschinfabrik Pvt Ltd appeared first on .