SIBM Pune, Roundtable on Innovations in Healthcare
January 16, 2020, Pune, India–
Symbiosis Institute of Business Management (SIBM) Pune
organised a round table with the theme "Innovations in
Healthcare" on 11th January 2020 at Lavale
Pune. Technological advancements for customized services, use of big data
analytics, focus on prevention and wellness are shaping the healthcare industry
of today and tomorrow. The breadth of the Healthcare service providers is also
increasing from clinics, hospitals, Pharmaceutical Companies, equipment
manufacturers, insurers to data-driven software firms and e-service providers.
Affordable care, care for all, personalized solutions, focus
on wellness are some growing trends. This round table on innovations in
healthcare discussed the various aspects of innovations across the globe and
the future of the industry. Dr Ramakrishnan Raman, Director SIBM Pune
shared that roundtable is being organized to add value to the students pursuing
MBA (Innovation and Entrepreneurship) at SIBM Pune.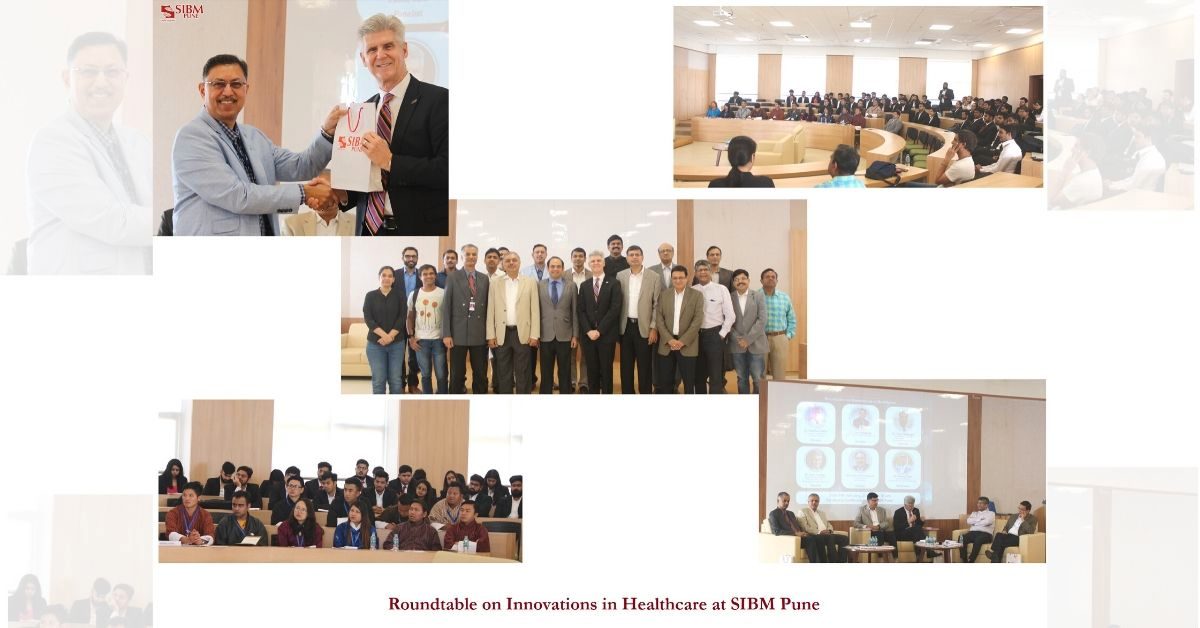 The round table panel constituted stalwarts from the
industry and academia including Dr. Brett Trusko, President and CEO
International Association of Innovation Professionals (IAOIP), Dr. Vijay
Natarajan, CEO of Symbiosis University Hospital and Research Center (SUHRC),
Dr. Madhav Sathe, Consultant Anesthologist at Bombay Hospital, Dr. Sanjiv Narangul,
Advisor of Advent and Dr. Aravind Chinchure, Founder and CEO at QLEAP
Academy. Mr. Parag Khare, CEO Paragon Health Consultants moderated the
roundtable. Prof Sandeep Bhattacharya – Head Corporate Relation SIBM Pune
welcomed the guests and introduced the panel members to the audience.
Students and faculty members of SIBM Pune and students from
Gedhu College of Business studies, Bhutan attended the event along with
founders of Startups like MumSmile, Innovation Igniter, Cognify etc. Innovation
managers from corporates like Emerson India and John Deere India were among the
audience present for the roundtable.
During the discussion Dr Brett Trusko stated that,
healthcare industry stakeholders should focus on effective usage of medical
database. Dr Natarajan, CEO of Symbiosis Hospital illustrated on how SUHRC is
using innovative practices to provide quality healthcare services at affordable
cost at the multispecialty hospital located at Lavale Pune. Dr Madhav Sathe
gave insights on the opportunities for innovation in health that is given by
the rural India. Dr Chinchure CEO of QLeap Academy gave examples of innovation
in health care from India. He also spoke on healthcare value chain.
Mr Sanjeev Navangul, invited students to study the trends in
drug industry and need-based innovations. He also gave insights on the
opportunities that exists in the Indian scenario for innovation in health care.
The roundtable provided the audience an overview of the current trends in
healthcare industry and also discussed the opportunities and challenges of
healthcare startups, data analytics, medical device innovations, drug
innovations for preventive healthcare to usage of Artificial Intelligence and
big data. Prof. Yogesh Brahmankar, Programme Evangelist- (MBA-Innovation &
Entrepreneurship) gave the concluding remarks and thanked the panel members.
The post Roundtable on Innovations in Healthcare at SIBM Pune appeared first on Digpu News Network.