SIBM Pune's Senate 2020
February 3, 2020, Pune, India—
The Corporate Interface Team (CIT) of Symbiosis Institute of Business Management (SIBM), Pune, organized its annual flagship management conclave, ' Senate 2020 '. This year 'Senate' was a two-day event which was held on 31st Jan 2020 and 1st Feb 2020 at SIBM Pune's campus located at Lavale, Pune.
With a rich legacy of over 41 years, SIBM Pune has been at the forefront of inspiring the minds of future business
leaders through valuable corporate engagements. Taking this trend forward, Senate 2020 focused on the theme of 'Recasting the Indian Economy: The Millennial Effect' to highlight on and understand 'How industries identify and respond to the evolving millennial trends through disruptive business strategies?'. According to Divyansh Singh Coordinator – Corporate Interface Team 'SIBM Pune's Corporate Interface Team aims to bring together diverse thought leaders who can acquaint the students with the key facets of change and also guide them on how best to prepare for the future'
Speeches Delivered By Industry Leaders
The conclave hosted business stalwarts and thought leaders across industries from organizations like McKinsey & Company, Reliance Jio, L&T Financial Services, Sony Pictures Networks, Mondelez International and others. The two-day event comprised of formats including keynote address, panel discussions and masterclass workshops.
The speakers on the day one were Mr. Abhinandan, Solutions Leader at McKinsey & Company, Mr. Dinanath Dubhashi MD & CEO of L&T Finance Holdings Ltd., and Mr. Ashwin Sanghi, one of India's leading authors.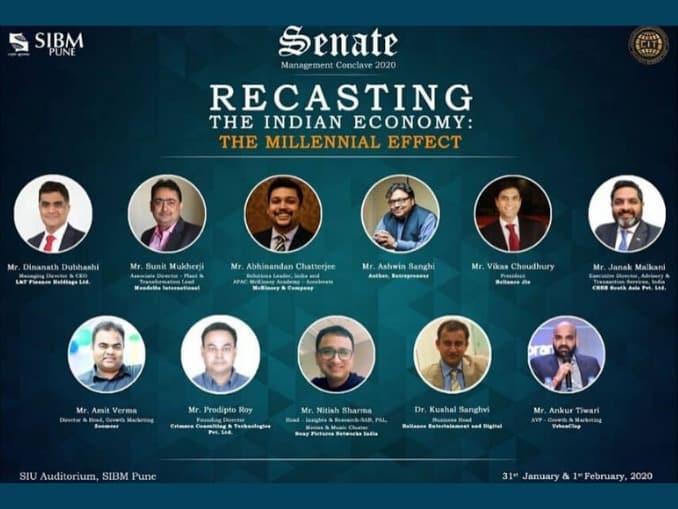 On day two, the keynote address was delivered by Mr. Vikas Choudhury, President -Reliance Jio and Mr. Sunit Mukherjee, Associate Director at Mondelez International. The day two ended with an interesting panel discussion on the theme 'Trends redefining the consumption story in the Indian Context'.
Keynote On How Firms Rethink Their Framework
The panellist for the panel discussion included Mr. Nitish Sharma – Head of Programming Strategies and Insights – Sony Pictures Network India, Dr. Kushal Sanghvi – Business Head – Reliance Entertainment and Digital, Mr. Amit Verma – Director and Head, Growth Marketing – Zoomcar, Mr. Ankur Tiwari – AVP – Growth & Marketing – UrbanClap, Mr. Janak Malkani – Executive Director – CBRE.
The discussion was moderated by Mr. Prodipto Roy – Founding Partner – Crimson Consulting and Prof Sandeep Bhattacharya – Head Corporate Relations SIBM Pune, felicitated all the guests.
The discussions provided key insights on how firms re-think and change their conventional framework to adapt to the 'VUCA world' and align their operations with the decision patterns and consumption behaviour of the new age consumer. India's consumer segment has witnessed major transience over the last decade. Industry experts shared their views on how changes in the determinants of consumer spending are impacting the dynamics of the economy.
According to Dr Ramakrishnan Raman – Director SIBM Pune 'Events like Senate is a showcase of SIBM Pune's commitment to promoting holistic management education by bridging the gap between industry and academia through extensive corporate connect and providing its students exposure to broaden their management perspectives'
Also read: Premier B School Of India SIBM Pune Is Now A Startup Hub
The post SIBM Pune's Senate 2020 – 'Recasting the Indian Economy: The Millennial Effect' appeared first on Digpu News.